About 10 days ago Katy decided to start the next sew along craze, which was to take place in June (well, to be fair it still *is* to take place in June) but in my loft incarceration I thought about it, and decided that although I liked the look of the pattern, it was going to finish rather bigger than I would like, as I intend this one to be a gift or charity quilt, and don't think anyone would particularly appreciate a 90+" square quilt!
Here's the pattern: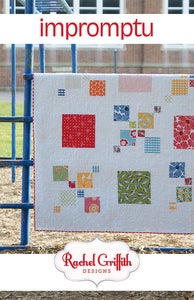 So I set to with a random pen and paper I found up there, and worked out how I could make a smaller one, and how I thought I could create similar blocks. Out of respect for the pattern writer, I'm not going to state how I did this, so if you would like to make your own, either buy the pattern from Rachel here, or grab your own pen and paper and shut yourself in your own loft ;o)
Back when I started on the quilting journey I bought a few precuts of lines that I liked, or I thought friends and family would like, which have mostly just sat for 18 months while I worked out WTH I would do with them. This pattern has at least demolished one layer cake (Cosmo Cricket's 1934), so there's only one left to go now! It does use quite a lot of background fabric, but handily I'd apparently bought a ton of the Kona Snow for another pre-cut project that I decided to abandon in the end, so this one was good to go. I have 12 layer cake sized squares left, plus a bunch of charm square sized pieces, which I can either put on the back, or I can back it with a solid piece of fabric and keep these for something else, I haven't quite decided yet.
You will notice that I made a bit of a change to the non-square blocks, mainly because the battery on my laptop had died by this point, so I was having to work from memory. My short term memory is notoriously bad, hence I have an 'alternative' version of this quilt. In a way it's a shame my memory is so bad, as I could have used more of the charm squares I have left over. Oh well!